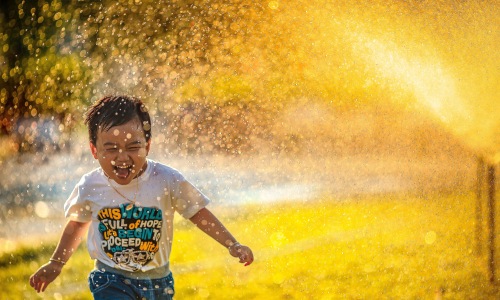 Inexpensive Summer Activities
It's the most wonderful time of the year! Well, the second-best time! It's summer vacation! Between summer camps, vacations, and the many activities to keep yourself or your little ones occupied; the dollar signs can add up. But, there are plenty of inexpensive and totally free activities that are still barrels of fun! Bust summer boredom with some of these family-fun activities. The first idea is to create a DIY obstacle course! Use household objects like chairs, blankets, and boxes to create an obstacle course, either indoors or outside. If you have a furry friend, you can even make them their own course! Put on a fashion show! Decide on a theme and have everyone use their own clothes, maybe even old Halloween costumes, to dress up according to the theme! Find free local activities around your neighborhood! Go to the library and read all afternoon. Discover all the different nature trails for walking or hiking. Maybe even go to a local farm or farmer's market. Whether you are trying to keep your kiddos occupied, looking to spend time with friends, or even a unique date idea, these inexpensive summer activities will be fun for everyone!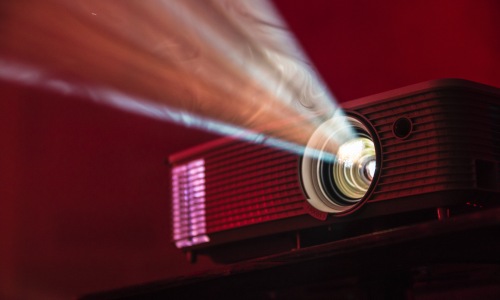 Catch a Free Outdoor Flick at the Upcoming CX Movie Night on July 28th
You don't have to shuffle into a stuffy movie theater—or put out any money—to catch a movie this summer. CX Movie Nights is making sure of that! This month at Baldwin Park, Cambridge Crossing is putting on a free outdoor movie night for the general public on Thursday, July 28th. It's actually a double-feature of family-friendly films, thanks in large part to co-sponsor Brattle Theater. The evening kicks off with a screening of Disney's recent blockbuster Encanto, featuring the famed musical stylings of Lin-Manuel Miranda, at 5:30 p.m. After a brief intermission, the big screen will light up once again with a throwback childhood favorite, Mrs. Doubtfire, at 7:30 p.m. While it's free to attend CX Movie Nights, you're still encouraged to register online to receive a free bag of popcorn and water while supplies last! But you can always grab snacks and drinks from local food trucks if you miss out on the complimentary popcorn. BYO lawn chairs to enjoy the film at the Maria Baldwin Open Space. Blankets are not recommended as the area is paved with stones, not grassy.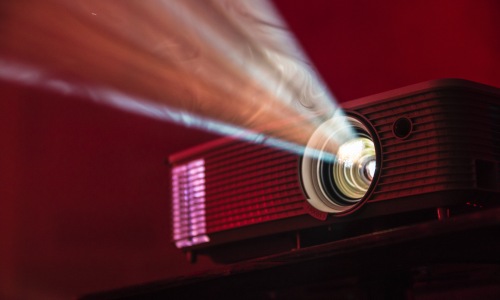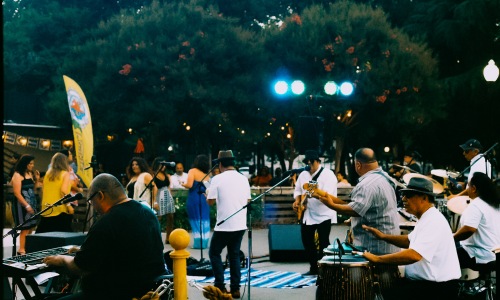 Enjoy Free Outdoor Concerts at CX Summer Nights This July and August
No warm summer evening in New England should be wasted! That's why you should get outside and enjoy the CX Summer Nights free concerts this July and August. The next installment is coming up on Thursday, July 21st at The Common at CX, and the fun kicks off at 5:30 p.m. This month, Other Than Boston and Couch serve as the headliners on the main stage. They'll provide the live music while local food trucks, craft breweries, and other small businesses serve up the gourmet bites and adult beverages. Grab some grub and a cocktail to enjoy as you dance to the beat, or make a beeline for the lawn games and challenge a friend to a match. Don't forget to snap a selfie in the Photobooth Bus and check out the greenery aboard the Cityscapes TransPLANTed plant truck, both of which are present at every Summer Nights event. While the event is free, proceeds from food and drink benefit local nonprofit organizations. So does any donation you make at the Wheel of Chance. A donation entitles you to a spin and a chance to win awesome prizes from Cambridge businesses.
Best Ways to Celebrate Father's Day: June 19th, 2022
As June 19th comes around the corner once again, it's time to plan an extra special Father's Day celebration. No matter who you are celebrating Father's Day for, these Father's Day gift ideas are thoughtful, creative, and can even be done last minute! Create your own scrapbook. There's nothing better than a homemade, one-of-a-kind scrapbook that highlights your family in all your beautiful, funny, and loving ways. Have a movie night. Transform a space in your home into a movie theater! Figure out dad's favorite movies and let him pick which he wants to watch. Make Father's Day cards. Instead of leaving dad out of the fun, have everyone come together to make Father's Day cards with each other to gift. Play video games. Just like the movie night, maybe dad has a favorite video game. Maybe you turn it into a competition and have everyone compete to see if anyone can beat dad. At the end of the day, it doesn't really matter what you chose to do for Father's Day. As long as the honoree feels celebrated and you spend time with family!
Catch the Night School Comedy Show Every Other Saturday This Summer
Looking for a unique date night idea or a fun thing to do on a girls' night out? Come to an upcoming installation of the Night School Comedy Show at the Cambridge Community Center! Hosted by Raoul Biron of Duck Duck Goofs, the local production draws some of the funniest comics from around the city to the neighborhood that you call home. With multiple dates on Saturday nights throughout June and the rest of the summer, you have ample opportunities to attend. The doors open at 8 p.m., which gives you some time to grab a beer, a hard seltzer, or a glass of wine and settle into your seat behind a bistro table. Then kick back and relax as the comedians bring the LOLs all night long! You might recognize some of the faces from their appearances on Comedy Central, HBO, and even Last Comic Standing. The speakeasy-style show always features live music, too, so there's something for everyone at the Night School Comedy Show. Grab your tickets online ($15 per person) to save your seat!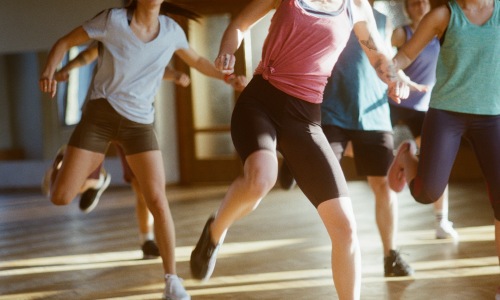 Dance Away Stress at Cambridge Outdoor Zumba, Tuesdays This Summer
If you've been craving the camaraderie of a fitness class, but don't quite feel up for an indoor sweat session yet, Cambridge Outdoor Zumba is the perfect solution! The summertime sessions unfold in the fresh air of the East Cambridge Savings Bank parking lot, which provides ample space for social distancing. The seasonal classes are held all summer long every Tuesday night from 6:30 to 7:30 p.m., and it's only $10 to drop in for a session. Hit happy hour with a few coworkers or friends and then head to the exercise class to burn off any leftover stress from the day! Instructors from Zumba with Jess will be on hand to get the adrenaline pumping as you flow through an up-tempo dance routine set to equally engaging music. Don't be intimidated if you have two left feet—the class is all about getting active and having fun, not perfecting each step! You can reserve your spot in class and pay ahead of time online if you know when you plan to attend.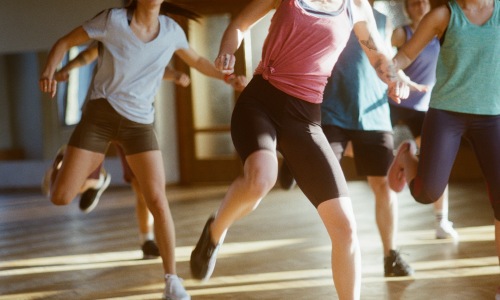 Grab Dinner or Drinks at The Lexington
The Lexington's chef has a habit of taking classic comfort foods and elevating them to new heights. Take, for example, his onion dip. Fresh dill and capers enhance the scratch-made dip, with comes topped with trout roe and served with house-waffled potatoes. The nachos get a similar gourmet makeover with tender braised short rib, fresh cilantro, and cotija cheese on top. So it should come as no surprise that this restaurant and its rooftop bar is a popular spot for happy hour or dinner, especially since the bar offers some of the best views of the surrounding city on a sunny spring day. Savor a few snacks and a craft cocktail up on the roof or reserve a table in the dining room to enjoy a full meal of new American comfort food. Start with the salmon tartare and a glass of wine before moving onto an entree such as the handcrafted rigatoni with mushrooms, honey nut squash, ricotta cheese, lemon, and crushed pistachios. Grilled Berkshire pork chops, roasted chicken breast romesco, and a signature steak with peppercorn jus and rosemary butter round out the menu at The Lexington.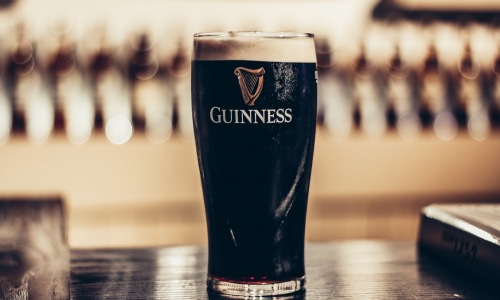 Celebrate St. Paddy's at the 8th Annual Get Lucky Boston Pub Crawl
The Grand. Ned Devine's. Lansdowne Pub. Some of the city's best-known bars are on the roster for the 8th Annual Get Lucky Boston Pub Crawl in honor of St. Patrick's Day. This popular annual event has claimed exclusive rights to the 30-plus participating bars, meaning you'll need one of their wristbands in order to avoid cover fees on Saturday, March 19th. Given that the pub crawl kicks off at 11 a.m. and continues well into the evening, skipping the cover charges will free up ample funds so you can enjoy more St. Paddy's Day pints. Join the thousands of other pub crawlers as they stream into the multiple check-in points and grab their wristbands for a day of fun. Tickets range from $5 to $25 depending on where and when you check-in. Expect the Irish brews to be free-flowing as live DJs and bands set the up-tempo soundtrack for the day of revelry. Each check-in point comes with a suggested crawl schedule, but it's just that—a suggestion. Feel free to hang at the first bar all day or hit as many as you can until the last call.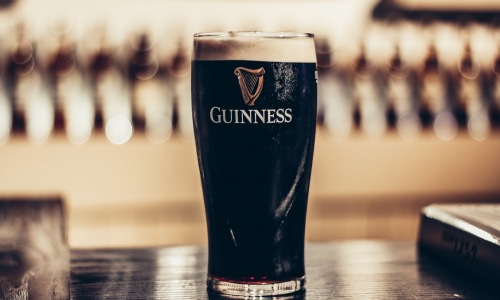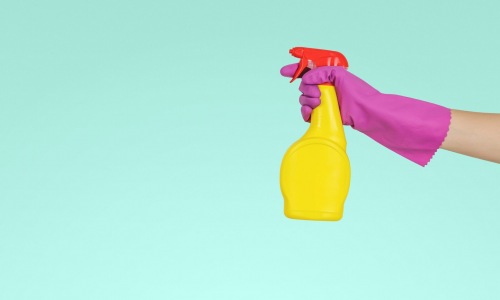 New Spring Cleaning Habits
OK, it isn't spring yet, but we are going to chat about Spring cleaning! The Spruce discusses six helpful tips on how you can better kickstart your spring season with a clean house. Spring cleaning is a common practice that allows us to freshen up our homes and get a head start on the often hectic seasons of spring and summer. It can feel like a daunting task, but it doesn't have to be difficult. The Spruce talks about getting everyone in the house involved, start smalling small, and the perfect guide to cleaning products. Does anyone else feel the urge to clean when reading an article about cleaning?! My rubber gloves are already on. Don't miss out on this quick guide to starting your spring off right!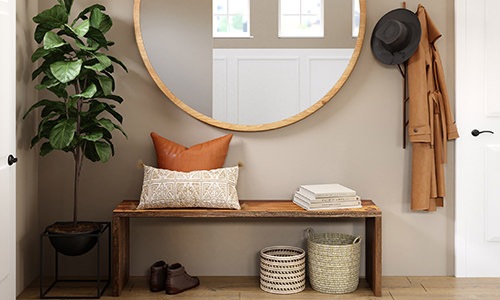 How to Refresh and Reorganize Your Apartment for 2022.
The new year offers an opportunity to wipe the slate clean and start fresh with a newly calibrated outlook and freshly minted goals. And while many people use the changing year as a chance to improve upon their physical self, why stop there? Now is the perfect time to reevaluate your living space, as well, to ensure that it's up to the task of serving as the backdrop for your daily to-dos and triumphs. Read on for a few easy ways to refresh and reorganize your apartment for 2022.
Declutter and de-stress. Curb clutter in your apartment by getting rid of outdated paperwork, unnecessary collectibles, and other items that tend to collect on surfaces, paying special attention to your desk, kitchen counters, and nightstands. Do this one room at a time so that you won't feel overwhelmed by the process, and don't forget to add in some mood-boosting houseplants!
Whittle your wardrobe. Try this trick to help you whittle down your wardrobe to the essentials: Pick one day in the near future to turn all of the clothes hangers in your closet in the same direction. After wearing an item, turn the hanger the opposite direction. If after six months, any of the hangers are still in their initial position, donate or consign the item of clothing.
Redecorate to rejuvenate. In with the new; out with the old! Retire worn, unwanted furnishings and breathe life into your space by trying out a new decorating trend. In 2022, some interior design trends include touchable textures, Parisian-inspired interiors, curved furnishings, and colorful window treatments!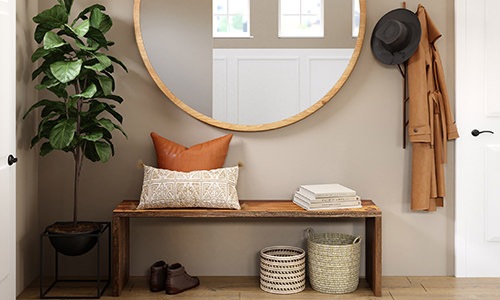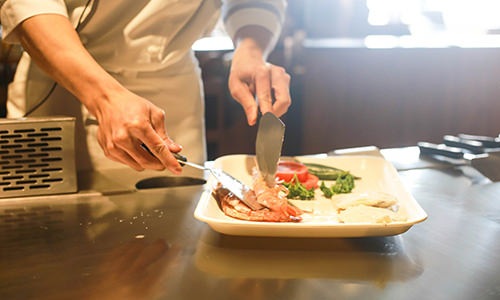 Sign Up for a Culinary Class at Selfup and Learn Something New in 2022.
What's your New Year's resolution? Maybe it's to get more active or carve out more time for self-care. It could be to spend more time with the people you love or start sending small gifts "just because." Or possibly it's to learn something new—with a few of those people you love in tow! If you fall into that final category, sign up for a cooking class at SelfUp.
Located in Kingston Street in the heart of downtown Boston, the educational kitchen is open for culinary classes that are perfect for beginners and burgeoning chefs alike! The experts at SelfUp are well-versed in a variety of cuisines and even cocktails, so you can pick a class that suits your tastes and preferences perfectly. For instance, grab a friend and sign up for the homemade dumplings class. You'll learn the art of crafting the Chinese staple, complete with a tasting of your creations at the end of class. More into French or Italian food? SelfUp's staff can show you how to expertly execute recipes in these culinary categories, as well. Or, if you're interested in educating yourself on the ins and outs of making a mixologist- grade cocktail, let one of SelfUp's "drink masters" show you the ropes. Classes start at $89 and can be booked entirely online.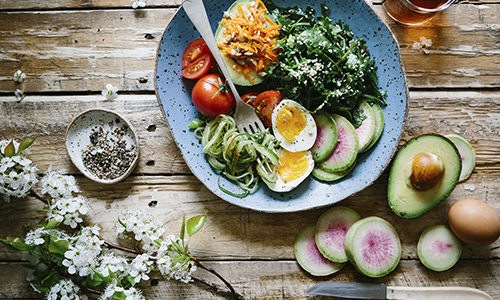 Have You Tried the Chocolate-Avocado Mousse at Life Alive?
Quinoa and cheddar rice tossed with tofu, beets, broccoli, kale, corn, almonds, and tamari and sesame-ginger sauces. It might be hard to believe that a meat-free dish could pack so much color and flavor, but that's really par for the course at Life Alive. Its chefs are committed to crafting nourishing dishes using organic vegetarian ingredients, like the elements featured in the aforementioned Adventurer bowl.
If it's your New Year's resolution to eat a little bit healthier in 2022, Life Alive will make it easy. You can also grab one meal to-go or order meal plans or meal boxes, which include multiple heat-and-eat (or mix, heat, and eat) dishes to enjoy throughout the week. The meal boxes include your choice of sides, entrées, and desserts from the main menu, so before you order a box, you might want to taste-test a few of your choices. Fans of greens will love the Living Caesar salad, built upon a base of kale, romaine lettuce, and microgreens. The chef tosses the mix with a hemp seed-based Parmesan cheese, chickpea "croutons," and a lemon-cashew Caesar dressing. Craving something warmer? Try the vegan broccoli cheddar soup or the butternut-apple bisque. For dessert, savor a mason jar of the avocado chocolate mousse or the peanut buttercup chia seed parfait.